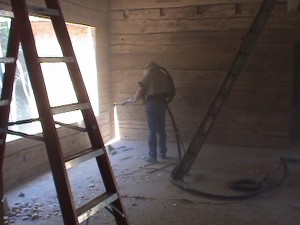 The proper preparation of your home is the most important step in the restoration process. It will determine how long the stain lasts and how well everything matches at the end of the project.
Some companies have a "one size fits all" approach to what is the best method to prepare a log home for refinishing. The fact is that each home is different in terms of its age, weather conditions and maintenance history seems to prove that a solution that works for one homeowner can't possibly work for every situation. Each log home is as unique as the people that live inside it and finding the correct solution requires a careful diagnosis of all facts and years of experience in the restoration field.
Removal or certain coatings or severe conditions demand more aggressive methods to prepare the surface properly. These situations demand media blasting whereas a routine maintenance schedule may only require a good cleaning agent and power-washing. If leakage has been problem a good washing is a great way to find and fix those leaks also.